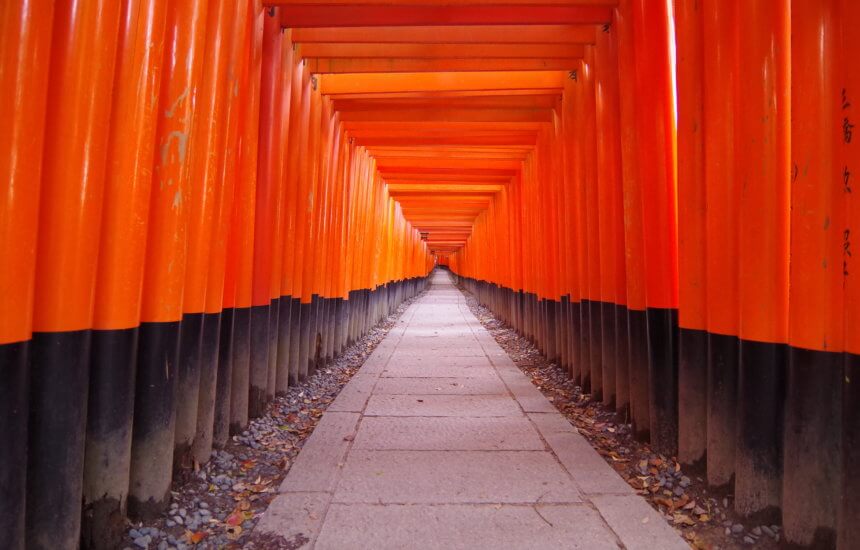 伏見稻荷大社
於711年創建的在伏見稻荷大社的鳥居於1830年以後,作為滿願之符出名而敬奉紅色鳥居的習慣流傳至今,據說現在約有1萬座鳥居。是在新年參拜(1月1〜3日)期間每年約有250萬人以上自國內外來訪並受到信仰的神社。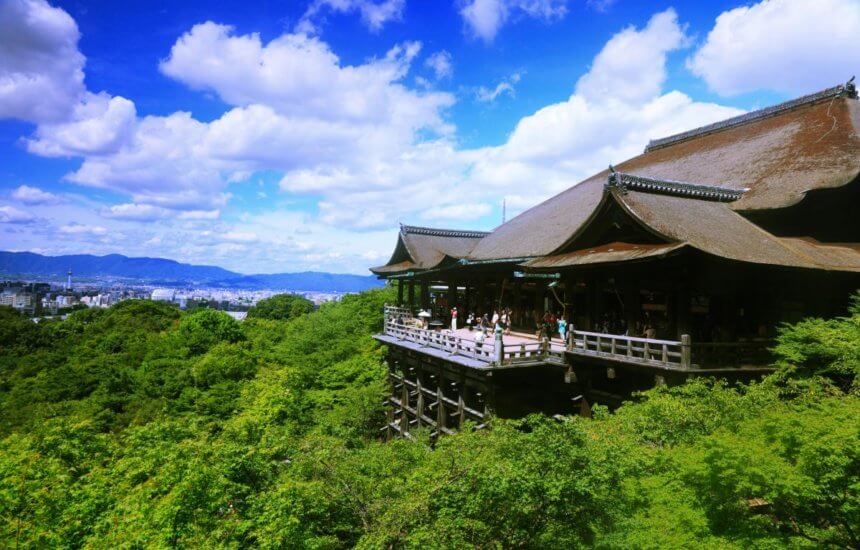 清水寺
1994年被登錄為世界遺產的清水寺是於778年所創建的,但歷史紀錄上經9次的重複燒毀,因此現在的建築幾乎是在1633年重新建造的。能向下眺望京都市街的舞台的建造不使用任何一根釘子。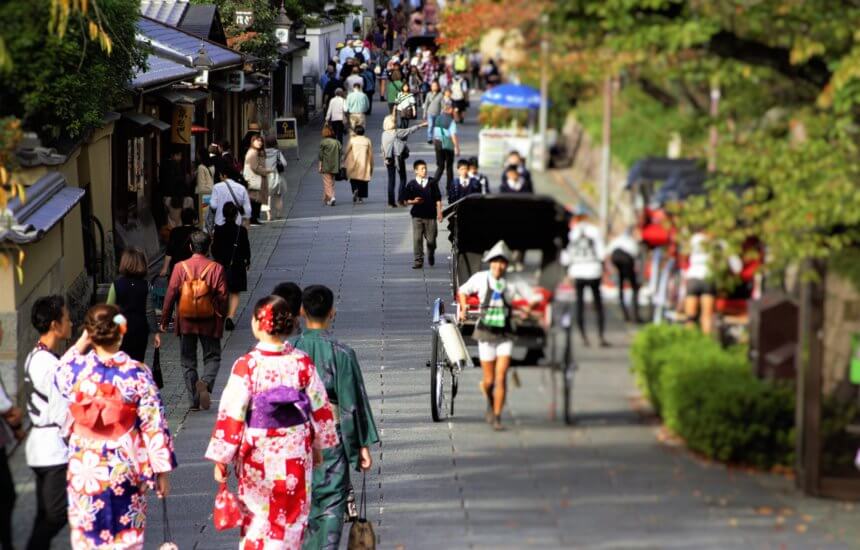 清水寺周邊地區散步
除了參訪由聯合國認定之世界文化遺產「古都京都文化財」之一的清水寺之外、還能在自古以來就扮演著寺院參道角色的二年坂及三年坂隨興逛街。看到這麼多充滿特色的店家、讓人不禁想每一間都進去逛個過癮!
在這個地區有一座知名的五重塔地標-八坂塔、而在塔附近不遠處的八坂庚申堂、更是因為那座掛滿了五彩繽紛祈願「倒吊猴」的小亭、而深受年輕女性遊客的喜愛、並紛紛到此處拍照打卡。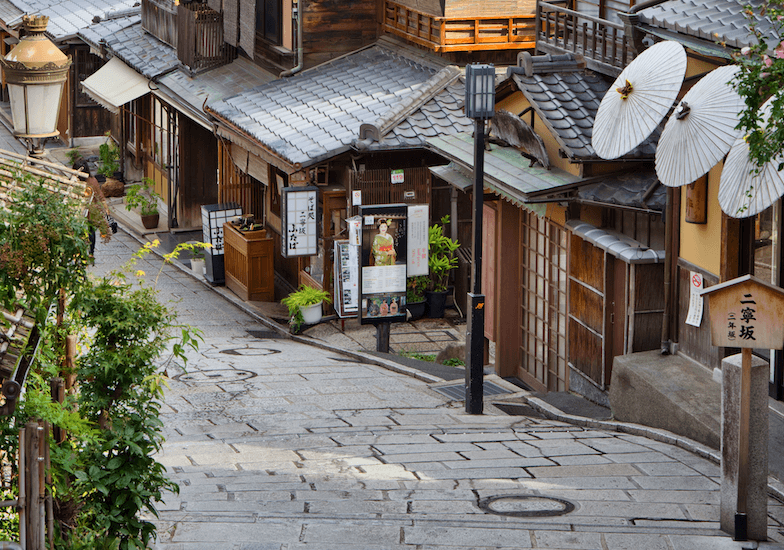 二年坂・三年坂
作為延續至清水寺的參拜道路的此石階之道上排列有京都風格的和風雜貨與和風甜點等京都土產店與飲食店。是能盡情感受京都特有風情的美麗風景的景點。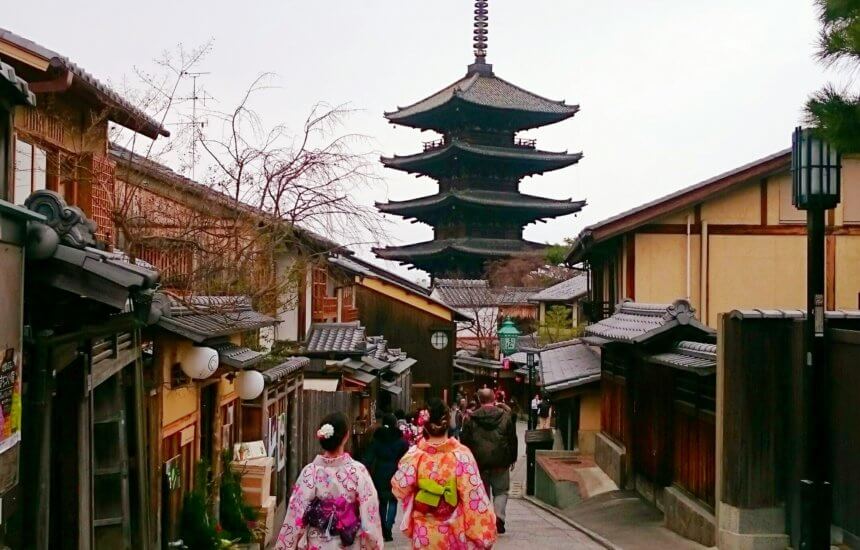 八坂之塔
位於此地於592年所建造的五重塔雖經過多次火災燒毀,但每次在之後被復原,現在的塔是於1440年重新建造的。八坂之塔是在此地區的景觀中有著不可或缺的存在。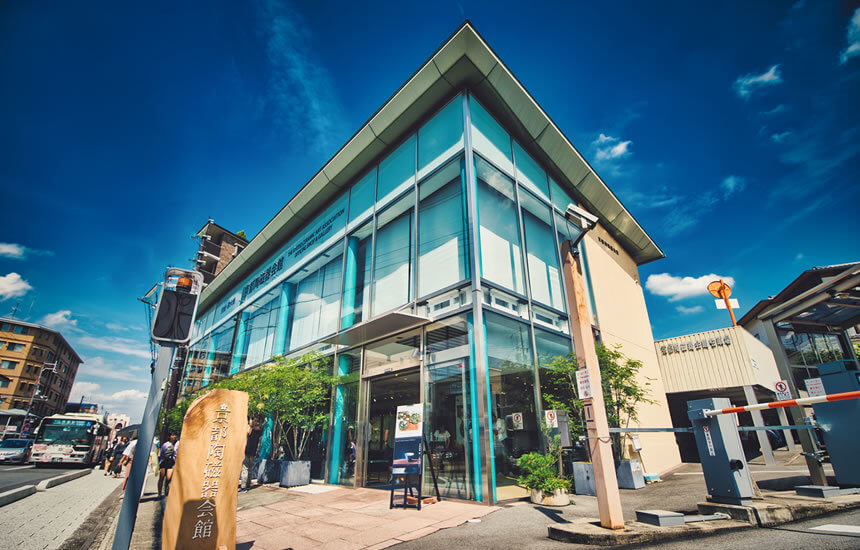 京都陶瓷器會館
在京都燒成的燒製器皿、通稱為「京燒・清水燒」。
這個稱謂首次於文獻中登場是在西元1605年。
為了振興「京燒・清水燒」這項傳統工藝品、京都陶瓷器會館一直扮演著推手這個重要角色。不只為了培養年輕一代而開設示範講座、也隨時舉辦著名作家的作品展售會。不斷致力於京都傳統陶瓷器文化的啟蒙及新秀育成活動。
在京都陶瓷器會館、您可以任意選擇合計3,500日圓以下的商品、或是抵用3,500日圓的消費。
Tour Details
10:00
In front of Shinsaibashi OPA
Lunch & Free Time about 3hour
Kiyomizu-dera temple area
17:00
DEPARTURE Kyoto Ceramic Center
Tour Price
(Total / 1person)
Adult
¥17,000
Child(4~15years)
¥8,500
※Tax included
Availability Calendar
半私人小型巴士團帶您前往伏見稻荷大社、清水寺周邊散步以及參觀京都陶瓷器會館
Osaka Departure / Kyoto Fushimi Inari Taisha & Kiyomizu-dera Temple Area Semi Private Small Group Bus Tour Kyoto Ceramic Center
August, 2020

| Mon | Tue | Wed | Thr | Fri | Sat | Sun |
| --- | --- | --- | --- | --- | --- | --- |
| | | | | | 1 | 2 |
| 3 | 4 | 5 | 6 | 7 | 8 | 9 |
| 10 | 11 | 12 | 13 | 14 | 15 | 16 |
| 17 | 18 | 19 | 20 | 21 | 22 | 23 |
| 24 | 25 | 26 | 27 | 28 | 29 | 30 |
| 31 | | | | | | |
Your tour conductor will guide you in Fushimi Inari Taisha & Kiyomizu-dera Temple.

After visiting Kiyomizu-dera Temple, you have 3 hours for lunch and free time. You will be handed a map of Kiyomizu-dera Temple area, which includes discount coupons on select stores and restaurants.
"Each passenger (excluding ages 0 to 3 yrs old) will receive a 3,500 yen voucher for the Kyoto Ceramic Center.
*No change will be given for purchases under 3,500 yen.
*No refunds for unused vouchers."
Please note that there are areas where photography and video recording are prohibited, including historic buildings, public roads, and public areas.
The final meeting point is at the Kyoto Ceramic Center at 5:00 PM SHARP. Please be at the meeting point on time.
Schedules may change due to traffic and/or other unforeseen reasons.

Click the date to proceed to the reservation screen.
◯ Available
× Fully Booked

Reservation Minimum 2 Passengers

Reservations for the following day are accepted until 9:00PM

Please refrain from carrying your child on your lap when on board the vehicle.
Children from 0 years old to 3 years old can join the tour for free.
Children fee from 4 years old to 15 years old.
Children below the age of 15 years old must be accompanied by a guardian or parent.
In addition, passengers age 16-20 years old travelling alone is required to submit a signed consent form by a parent or guardian. Please inform us beforehand by e-mail.
We may ask you to present your identification to confirm your name and/or age.

Cancellation Fee
20 days before scheduled tour 20%
7 days before scheduled tour 30%
Day before scheduled tour 40%
On the day of scheduled tour before 9:30AM 50%
On the day of scheduled tour after 9:30AM 100%
No Show 100%
※Cancellations received after business hours will be processed the following business day.
Important Points
Departure policy
Please present your booking confirmation e-mail to the Tour Conductor at the pick-up point.
Please be at the pick-up point 15 minutes before departure.
Change of pick-up/drop-off locations are not allowed.
The vehicle will depart on-time, please arrive before departure time.
We may occur delays due to bad traffic, accidents on roads, or severe weather etc. We will not be liable to later costs of taxis and/or train fares etc for passengers.
Please understand we will not be liable for your other bookings (cars, private vehicles, ferry, public transport, etc) due to delays occurred while on tour.
In the bus
The vehicle has no luggage compartment, please avoid bringing large luggage on board the vehicle.
The vehicle has no toilets.
There is no smoking allowed on board the vehicle.
Please be mindful of your belongings.
Please refrain from over consuming alcohol. Overly intoxicated passengers may be asked to disembark without compensations.
Please refrain from carrying your child on your lap when on board the vehicle.
Other
If our staff, tour conductor, translator, driver etc find your actions unlawful, passenger may be asked to leave the tour without compensation.
Our vehicle is non-wheelchair accessible.
We do not offer cash refunds on the day. *Please see cancellation policy
Please be mindful of other passengers.
Some facilities, shops, restaurants may be closed on the day of tour.
There are some unexpected dates where you may be declined entry to a shrine or temple due to religious activities.
Please note that there are some areas, structures, statues, historical sites, etc that prohibit photography.